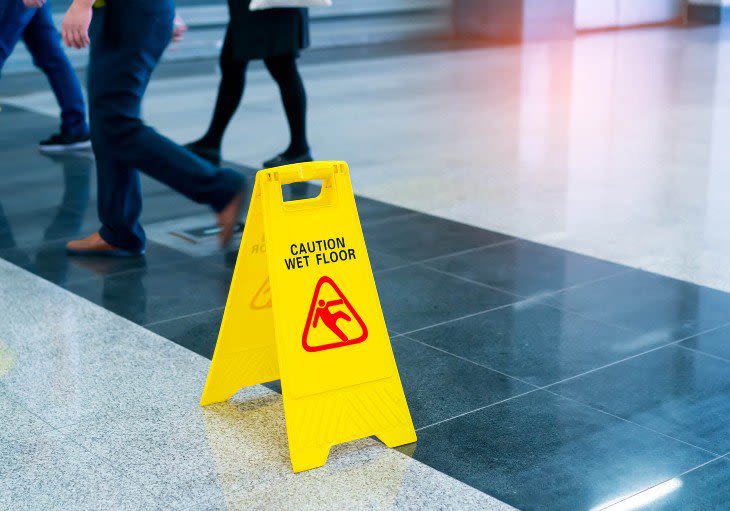 What to Do After a Georgia Slip-And-Fall Accident
---
Slip-and-fall accidents are common in Georgia, and they occur through no fault of the injured party. These accidents often lead to significant injuries, including broken bones, concussions, spinal cord injuries, traumatic brain injuries, and paralysis. If you have been injured in a slip-and-fall accident in Georgia due to another's negligence, you may be entitled to financial compensation. However, in order to improve your chances of a successful lawsuit, there are certain steps you must take. After reviewing the information below, please contact an experienced personal injury lawyer to discuss your options.
What causes slip-and-fall accidents?
There are many conditions that can lead to slips-and-fall accidents, including:
Wet or uneven flooring

Debris

Torn or loose carpeting

Displays in walkways

Electrical cords in walkways

Poor lighting

Uneven, icy, or broken walkways and stairs
What duties do property owners have?
A property owner or manager who is aware of a dangerous condition on his or her property must either correct the problem or adequately warn customers of the deficiency. The failure to do either of these things can result in liability for resulting accidents and injuries.
Steps to take after a slip-and-fall accident
Following a slip-and-fall accident in Georgia, you should take the following steps:
Get medical help – Following a slip-and-fall accident in Georgia, you should immediately seek medical help. And this applies even if you don't believe you've been injured. Often, injuries aren't apparent until hours of even days after an accident, so immediate medical attention is essential whether you are in pain or not.

Gather evidence – Evidence may include photos of the scene of the accident, medical records, witness information (ex. name, address, phone number, etc.), surveillance footage, and anything else that may help prove how the accident occurred.

Report the accident – Be sure to report your accident as soon as possible after it occurs. You should report your accident to the property owner or manager in order to create a record, but don't go into detail regarding your injuries.
Been injured? Contact Our Lithonia Personal Injury Lawyer!
If you've been injured in a slip-and-fall accident, you need an experienced personal injury lawyer on your side. At E.N Banks-Ware Law Firm, LCC, we are ready and willing to assist you with all of your personal injury needs. When we take on your personal injury case, our experienced Georgia attorney will conduct an extensive investigation to understand the circumstances of your accident and work strategically to demonstrate the other party's liability. We will handle all the details of your slip-and-fall case, including any dealings with the insurance company, so that you can focus on recovering. Above all, we will work closely with you to make sure you obtain the care you need and the compensation you deserve. Please contact our experienced attorney today to set up a free consultation.